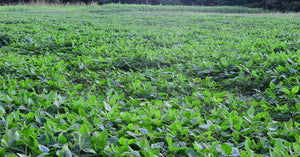 BioLogic's NEW Game Changer Soybeans
BioLogic is excited to introduce the ideal soybean planting for food plots and wildlife managers. It is well known that soybeans are at the top of a whitetail's preferred food sources. The ability to grow extremely attractive warm season forage and also produce beans that are incredible for the fall and winter is a major benefit for food plots. Forage soybeans are an excellent source of protein for whitetails during the months when bucks are growing a new set of antlers and your does are carrying and nursing fawns.
Biologic Game Changer forage soybeans are uniquely bred and grown by Stratton Seed Company with whitetails and land managers in mind. These forage soybeans have several characteristics that help them stand out over typical ag soybeans that are bred almost exclusively for bean production.
Great height, forage production, & browse tolerance
Incredible disease and stress tolerance
Group 5 Indeterminate variety will continue to grow & produce forage after flowering
Grows in all soil types and stays strong in adverse conditions
Glyphosate herbicide tolerant for a clean plot and minimal weed competition
Game Changer forage soybeans can be planted in May-July throughout most of the country. Northern states should plant in May-early June. Planting rates are 50 lbs per acre with a drill or planter. Broadcast rates can be 50-80 lbs. per acre. Planting depth should be 1 inch if planting into good soil moisture, and 1.5 inches if planting in dry conditions or later in the growing season. Without a soil test to go by, use 250-300 lbs. per acre of 0-20-20 or an equivalent fertilizer. Game Changer soybeans can be sprayed with a glyphosate herbicide to kill any weed competition. Follow the directions on the label for correct rates and application for the best results.
"Gamekeeper Pro-Tip: BioLogic MEEN Green can be mixed with Glyphosate herbicide to kill weeds and fertilize your soybeans at the same time."
For more details visit plantbiologic.com or send us an email at biologic@mossyoak.com
---